Tropicana Field will be the site of another great MLB betting battle on Fox Saturday Baseball this weekend, as the struggling Minnesota Twins (4-9) pay a visit to the surging Tampa Bay Rays (5-8).
Things just aren't going well right now for the Twinkies. They have already lost both games in this series, giving them three setbacks in a row and five out of six games, and they are now having to go into battle without Joe Mauer, arguably their best offensive threat. Mauer is on the DL with leg weakness, something that you never want to see out of a catcher. He really hasn't done all that well that year though, and as a result, neither has the offense. Averaging 2.92 runs per game just isn't going to cut it in the bigs, and it is the worst mark in the game this season. Scott Baker really hasn't done anything to stop the bleeding yet for this pitching staff either. Baker has an ERA of 6.55 and a WHIP of 1.64 in two starts this year, as he has allowed four runs in both of his outings. Baker has never been anything particularly special for Manager Rod Gardenhire, but he has always managed to keep his ERA in the low to mid-4.00s, and as a result, he has always been able to win games.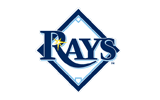 The rest of the AL East really might want to look out for the Rays. The defending division champs (and yes, that's still weird to say even though it has now been the case in two of the last three seasons) are finally rolling, as they have won four in a row against teams that are perceived to be postseason contenders. Kyle Farnsworth, who hadn't really been used much over the first two weeks of the season, suddenly has two saves and a win in three straight games for Tampa Bay. Of course, everyone in the Bay area is ranting and raving over the play of Sam Fuld. Fuld has seven stolen bases this year, and he is batting .366 to lead the team. We know that Jeff Niemann really needs to get his act together in a hurry to keep the confidence of Manager Joe Maddon at the back end of the Tampa Bay rotation. He has only lasted 8.2 innings in total in his two starts this year, and he has an 0-2 mark and an ugly 8.31 ERA. The good news for Niemann, though? He's 2-0 with a 3.05 ERA in four outings against the Twins in his career.
Minnesota Twins vs. Tampa Bay Rays Pick: Something's got to give here for the Twins and Rays, as both of these starting pitchers have been relatively awful this season. Give the nod to Tampa Bay in this one, as the MLB odds are relatively short on a team that typically plays very, very well at home. Take the Rays -123.