After playing deep into the night and into the early morning yesterday, the Philadelphia Phillies and Cincinnati Reds are going to have an early wakeup call on Thursday, as the two teams have to turn around and play an MLB betting affair at 1:05 ET in a game that will be shown live on the MLB Network.
The Reds just continue to struggle to find ways to get hits and runs together on the board against the Phillies, and they dropped to just 9-24 in their last 33 meetings with the boys from the City of Brotherly Love after the loss on Wednesday. Knowing just how hard the bullpen had to work yesterday, there is going to be a ton of pressure on the back of Homer Bailey. Though this righty has had a decent history of pitching deep into games this season, this isn't exactly his M.O. over the course of his career. Bailey has only averaged exactly 5 1/2 innings per game in his career, and he is 19-17 to show for his work. Of course, this year, he has tacked another inning onto this. He is 3-1 with a 2.08 ERA, and he has truthfully pitched well enough to be 4-0. He was a tough luck loser in a 2-1 loss against the Cleveland Indians back on May 21st, but in fairness, the offense was due to give him a dud after putting up 24 runs in his first three starts for him this May.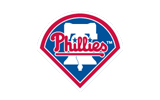 This isn't the first time that Cliff Lee has basically been handed the baseball and told that he is pitching for a long, long time. Heck, it feels like the Texas Rangers did that to this southpaw for the whole second half of the season and the playoffs last year. Indeed, Lee has a rubber arm, as he has completed at least 6.0 innings in all but one of his starts this year, and that's a true testament to how strong of a pitcher he really is. All things told though, Lee is just 3-4 on the season, and he has a 3.38 ERA. It's got to be concerning that he has nearly as many walks this year (15) as he did last season in his 28 starts combined with the Rangers and the Seattle Mariners (18), but these 78 strikeouts is certainly going to put him on a career high type of a pace. Lee really could stand to improve his WHIP (1.20) and his batting average against (.253), though we know that he is going to be decaying at some point during his career considering the fact that he is going on 33 years old.
Cincinnati Reds vs. Philadelphia Phillies Pick: Still, in this type of a spot where both bullpens are just worn the heck out, we have no choice but to go with Lee. There might not be a pitcher in baseball that we'd rather turn the ball over to in this spot, and even though we have to lay a huge number, we have no problem laying the chalk with the Phillies -160.