Teams from the Lone Star State hook up in Houston on Thursday night for what should be a great MLB betting battle, as the Houston Astros play host to the Texas Rangers.
Texas enters Thursday night still enjoying a slender 1.5 game lead over the Los Angeles Angels of Anaheim for the top spot in the AL West, but it knows that it has to play a heck of a lot better baseball than this to be able to ensure victory in the division. The good news is that the man on the mound on Thursday, Matt Harrison, really has pitched better ball of late, and if he keeps this up, the Rangers should be headed for a 'W'. Harris has allowed just a grand total of six earned runs in his last six starts combined, including allowing just one earned run in three straight starts. However, thanks to his defense, which has committed a plethora of errors around him, and the fact that the offense was held to just one run in two of those games, he is just 2-2 in his last four starts for the team. Still, a 3.00 ERA for the season is nothing to complain about, especially when you're pitching in Arlington for your living. We're a bit pessimistic about this success continuing, though. Yes, Harrison's strikeouts are up of late, as he does have 18 in his last four starts combined. However, he is still walking far too many batters, and 34 walks against 52 Ks for the season won't cut it.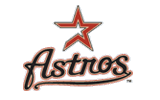 And then there are the Astros, who are a certified train wreck and are absolutely the worst team that baseball has to offer. It's been a long time since we've wondered whether a team is going to win 50 games or not in a season, but Houston is only on pace for 56 victories right now, and things are getting worse before they're getting better from the looks of it. The 'Stros are just 13-30 this year when playing at Minute Maid Park, easily the worst mark in the bigs, and the end result has been a -$1,950 mark on the MLB lines for baseball bettors. The good news is that Wandy Rodriguez has really been the lone bright spot in an otherwise awfully dismal campaign. It's hard to say that 5-4 is "bright," but that 3.21 ERA for Rodriguez has actually kept Houston in a number of games this year that other pitchers would have near certainly lots. His last outing against the Tampa Bay Rays was nothing special, as Rodriguez surrendered five runs in just six frames, but we can expect better considering the fact that he had allowed only two earned runs in his previous four starts combined.
Texas Rangers @ Houston Astros Pick: The bottom line here is that this is a series that the Rangers have dominated. Houston is just 16-36 in its last 52 games overall and 6-21 in its last 27 home games. Texas has won eight straight here in Houston and 20 of the last 27 against the 'Stros overall. This is as easy as it gets. Our MLB picks: Texas -125.