Things in the NL Central are either about to get a heck of a lot more interesting or a heck of a lot less interesting courtesy of the MLB betting affair between the St. Louis Cardinals and the Milwaukee Brewers on Tuesday night.
You hate to say that these games are bordering on "must wins" for the Redbirds, but there's a point that you have to realize that getting swept out of Miller Park in a four game series is probably going to end any hopes that they had of making the postseason. St. Louis is already four games out of first place, and one would like to think anything less than two out of these last three games going its way would be a travesty. On Tuesday night, Jamie Garcia is set to take the hill. He's got a stellar 10-5 mark, and he has led the team to a 13-9 record in his 22 starts this season. He has some of the best numbers on the team, posting a 3.14 ERA and a 1.25 WHIP, but a lot of his help has come from the offense, which is averaging over five runs per game for him. Garcia typically doesn't throw more than about 100 pitches, something that he has only done twice since June, which could tax a bullpen that has been up and down all season long. In his last start, Garcia allowed five runs (four of which were earned) in six innings in a loss to the lowly Houston Astros at home, something that just won't cut it.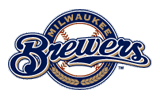 The Brewers meanwhile, are trying to put some more distance between themselves and the rest of the division, and the hope is by the end of the week, what was once a four team race could become just a one team. This legitimately could become the biggest division lead in baseball if they can just hold serve at their home park, something that they just continue to do game after game. In fact, Milwaukee just won its whopping 40th game at home on the season. To put that in perspective, the Astros only have 36 wins in total... On Tuesday night, righty Shaun Marcum will be dealing, and that's good news for the hometown faithful. Marcum might only have an 11-11 mark for his team over his 22 starts this season, but he personally is 10-3 with a 3.33 ERA. We know that the Brewers are going to score more than 3.9 runs per game on a regular basis, which is all that they are averaging with Marcum out there, so we aren't anywhere near worried that .500 mark in total.
St. Louis Cardinals @ Milwaukee Brewers Pick: Marcum's won three straight starts for the Brew Crew, and simply put, at home, they're unstoppable. This is a team that is on pace to shatter all sorts of home winning records this season, and we think that this will be just another bump in the road to overcome on Tuesday. Take Milwaukee -140.