Adversity is nothing new for the Tampa Bay Rays, as they are the consummate underdogs who always find a way to prevail. Now, they have their backs against the wall again, facing a 2-1 series deficit in this best of five ALDS against the Texas Rangers. Game 4 is set for 2:07 PM on Tuesday.
The Rangers' bats were shut down for six innings on Monday against David Price, but once again, they were able to claw together the big inning in the seventh to put four runs on the board to take care of business. We remain a tad concerned over the bullpen, which hasn't looked all that sharp over the course of this series, but in the end, we know that more often than not, Koji Uehara, Mike Adams, and Neftali Feliz are going to get the job done. Manager Ron Washington has to feel good about this spot, knowing that he has a relatively favorable pitching matchup in this one and his ace waiting in the wings for Game 5 back at home if necessary. Matt Harrison has had five straight solid starts for the Rangers in which he only allowed a total of nine runs. He picked up the win in four of those five games. The lefty didn't pitch well in a short relief appearance in Game 1, but no one did for Texas. He allowed a walk, a hit, and a run in 0.2 innings of work in an outing that was really more about just throwing some pitches and getting some work in, rather than trying to win the game.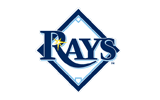 The Rays have been here a number of times before, and more often than not, they do prevail. This is a team that is 3-2 all-time in elimination games, and that doesn't include the fact that they played so well down the stretch of this regular season just to get into the playoffs. But heck, if this squad can erase a 7-0 deficit against the New York Yankees with just six outs to play on the last day of the regular season, we certainly don't see how this tiny little two game deficit is going to be that daunting. It's strange that it took a rookie, Matt Moore to get the only win in this series, and that neither veterans James Shields nor David Price could get a win in huge spots in the playoffs. Maybe turning the ball over to another youngster, Jeremy Hellickson is just what the doctor ordered for the Rays. Hellickson went 13-10 this season, and he really gave the team everything that he had with a 2.95 ERA. Teams only averaged 3.4 runs per game with Hellickson on the mound this year, and odds have it, that's going to have to hold true again in this one for Tampa Bay to keep its season alive.
Texas Rangers @ Tampa Bay Rays Pick: The Rays have fought all season long, and there's no reason that they aren't going to fight again in this one. We don't know if this team is going to pull off this comeback, but we know that it is going to go down fighting. We'll take our chances that the Rays have the pride to bring this series back to the Lone Star State.
MLB Pick: Tampa Bay Rays -120 at Bookmaker Sportsbook.