The Philadelphia Phillies seized control of the National League Divisional Series on Tuesday night in the Gateway to the West. They can close out the St. Louis Cardinals if they can win Game 4 on Wednesday night.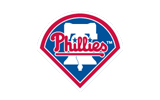 Pitching, pitching, pitching. That's what winning in the postseason is all about. Roy Halladay was good in Game 1. Cliff Lee wasn't so good in Game 2. Normally speaking in the playoffs, if you can split two games against a team's two best pitchers, you're in good shape, especially when you're coming home. But when you're playing against the Phillies, there isn't such a thing as a night off on the mound. Cole Hamels threw six shutout innings and was dominating every step of the way, and when he came out of the game on Tuesday, the man that pinch hit for him, Ben Francisco hit the three run homer that gave the Phils a 2-1 series edge. Now, it's up to Roy Oswalt to close this series out. You might think of Oswalt as the fourth best pitcher on this staff, and it's true that he only went 9-10 in an injury shortened regular season this year, but we have to remember that this is a man that is 5-1 for his career in the playoffs. Oswalt also has 10 wins against the Cards in his career, including when he allowed just five hits in seven shutout innings against them in September.
St. Louis has really given its best shot in this series, but you could just feel the air come out of Busch Stadium when Francisco hit that three run homer. This series might have effectively been over right then and there. The offense has struggled at times, and the question is whether Matt Holliday is going to be back in the fold to try to help out his team in this one. Regardless, Edwin Jackson is going to need to be humongous, just as Jamie Garcia was for six innings before getting blasted in the seventh on Tuesday. Jackson has been good since coming over to the Redbirds, as he has kept his team in every single start. He has only allowed more than three earned runs in a game once since the trade, and the team won his final four starts of the season. He did only go 12-9 with a 3.79 ERA, but Jackson knows that this is as important of a start as he has ever made. He has appeared in the postseason recently with the Tampa Bay Rays in 2008, but he wasn't used as a starter in that series.
Philadelphia Phillies @ St. Louis Cardinals Game 4 Pick: The Cardinals just look like a demoralized team right now, and we don't see them putting on the rally caps in Game 4. Just as the Tampa Bay Rays finally ran out of magic in Game 4 on Tuesday, we think that Philly going to burst St. Louis' bubble on Wednesday once and for all.
MLB Pick: Philadelphia Phillies -110 at Bookmaker Sportsbook.