The Texas Rangers jumped out to a 1-0 series lead on Saturday night in the 2011 ALCS. Can they double their lead? The Detroit Tigers hope to fend off a 2-0 deficit going back to the Motor City.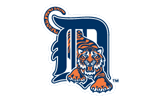 Whatever Justin Verlander did to tick off Mother Nature must have been pretty darn bad. Verlander pitched just one inning against the New York Yankees in the opening game of the playoffs before the rains came and ended his start and suspended the game, which forced him back to start Game 3. That was all fine and dandy because it gave him the ability to start Game 1 of the ALCS... except for the fact that it rained after just five innings in the game on Saturday as well. In the end, a two run sixth inning that included a pair of rain delays just wasn't enough to overcome the early deficit in Game 1. Now, it's up to Max Scherzer to get the job done in Game 2, or it is going to be a long, long uphill climb to salvage the Tigers' season. Scherzer was fantastic in his most recent start against the Bronx Bombers in the ALDS, as he allowed just two runs and four walks over six scoreless innings to get the 'W' in the 5-3 Game 2. He'll need to pitch like that again in this one to have any shot of coming on the road and walking away with a victory.
Collapses in late innings and down the stretch have been the main theme of these playoffs, but not because of what you would typically think. Sure, the Boston Red Sox and Atlanta Braves both had to choke away huge leads in their respective Wild Card chases just for the Tampa Bay Rays and St. Louis Cardinals into the playoffs, and sure, many characterize the fact that the Rays and Yankees both lost series after taking a 1-0 lead to be a tremendous choke job... But look at these tense games of late. Teams that score first, particularly if those runs are scored early on, are winning games left and right. The Rangers did just that on Saturday, jumping out to a 3-0 lead and hanging on for a nervy 3-2 win. Now, they have lefty, Derek Holland on the mound to hopefully push this series lead to 2-0. Holland not only pitched relatively well as the Game 2 winner in the ALDS, but he also pitched in relief in Game 4 to help save that series finale. Many didn't think that Holland belonged as the second starter in this rotation, but all of the naysayers have been proven wrong for sure.
Detroit Tigers @ Texas Rangers Game 2 Pick: Without MLB odds up on this one as of early on Sunday, it's tough to make a call. That being said, we tend to think that the Rangers are the right side once again, as this ballpark has been incredibly difficult for teams to play in all season long.
MLB Pick: Texas Rangers OTB at Bookmaker Sportsbook.