The St. Louis Cardinals have proven that they can stick around with the Milwaukee Brewers, but they are still down 1-0 in the NLCS. Check out our MLB picks to see whether they can level this series.
The Cards have to feel good that they were able to knock around Zack Greinke at Miller Park. They scored five runs in the first five innings, which is as tough of a task as they will have in these playoffs. That being said, for the second straight start, Jaime Garcia could really finish off what he started, getting bounced for six runs after four solid innings of work. Now, that puts a lot of pressure on Edwin Jackson to pitch well on Monday. He outpitched Roy Oswalt in a do or die Game 4 at home, but now, he has a lot of work to do to keep his newest team from falling into a 2-0 series hole. That being said, he has led the Redbirds to a 9-4 record in his 13 starts, including that game in the NLDS. It's hard to argue with any of this, but we have to remember that Jackson really hasn't pitched in a nervy situation like this one as a starter on the road, especially going against a team that hasn't lost a game at home in four tries in the playoffs.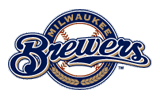 The Brewers just keep doing what they're doing, and they know if they just keep finding ways to win games at home, they're going to win the World Series. The truth of the matter is that they are seven wins away from winning it all, and they still have a maximum of seven home games to play. The only problem right here is that the Game 2 starter, Shaun Marcum, actually pitched better on the road than at home. Perhaps he is going to have a reversal of fortune, though. In Game 3 of the NLDS against the Arizona Diamondbacks, Marcum wasn't all that stellar in a game that turned out to be a blowout. The good news is that he has a lineup that has really exploded. The big bats were bopping, led by Prince Fielder, who blasted off for a three run shot in the sixth inning that featured six runs in what turned out to be the difference making frame. If this lineup can produce anywhere near this well over the course of this game, Marcum won't need to do a heck of a lot to be able to make this a 2-0 series.
St. Louis Cardinals @ Milwaukee Brewers Pick: The Brewers aren't going to win every single game at home in all likelihood, and if there is a game that the Cards can steal, this is the one. St. Louis has never said "Die" over the course of this entire season, and we don't see it happening here now either.
MLB Pick: St. Louis Cardinals +130 at Bookmaker Sportsbook.