The Detroit Tigers have cut the lead for the Texas Rangers in half after winning a crucial Game 3 on Tuesday night. Now, they have a chance to tie up this series and turn it into a best of three if they can beat the Rangers again at Comerica Park on Wednesday afternoon.
Texas has to absolutely loathe coming to Motown to play baseball. It has the worst record of any team in the American League in this ballpark, going just 23-35 in its 58 games played at Comerica Park since it opened in 2000. The team didn't look all that stellar, particularly in the middle innings against the Tigers on Tuesday night, allowing five answered runs before clawing one back in the eighth. Still, this is probably the most complete team in baseball, and at least the bullpen, which had been abused in the first two games of this series, really didn't utilize that much in terms of arms used and pitches thrown. That's good news with Matt Harrison hitting the mound on Wednesday. The lefty has only made it longer than seven innings twice since July, and he only survived five innings against the Tampa Bay Rays in the ALDS. To his credit, Harrison did pitch a great game, allowing two runs in five innings of work. He struck out nine batters, which was a season high. It was a real shock for a man who isn't known as a strikeout pitcher and often has virtually as many walks as strikeouts in the average start.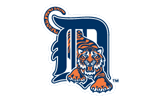 We're a bit surprised that Justin Verlander isn't being used in this spot by Manager Jim Leyland, but his theory is that you have to win four games in a series to win it, and Verlander is only going to have one more chance one way or the other to pitch. Still, had this series been 3-0 instead of 2-1, perhaps Leyland would have felt differently. It does have to feel good knowing that Verlander is going to get another shot to be on the mound in Game 5, whether it be in a do or die spot, or to take the series lead. Instead, it'll be Rick Porcello that gets the call. The righty is mature far beyond his years, as he is only 22 years old and already has three MLB seasons under his belt. He didn't pitch well in his first postseason appearance, but these aren't the New York Yankees on the other side of the field. That being said, he already threw two innings in relief in Game 1 after the rain delays, and it had to be a good sign that he threw two donuts on the board.
Texas Rangers @ Detroit Tigers Game 4 Pick: Maybe getting back to Detroit was just what the doctor ordered for the Tigers. They have a glorious chance to level this series up, and they'll do just that at a price that we cannot ignore.
MLB Pick: Detroit Tigers -105 at Bookmaker Sportsbook.