The 2012 MLB betting campaign opens up in Japan in the wee hours of Wednesday morning when the Oakland Athletics take on the Seattle Mariners.
The Mariners are coming into this season with a heck of a lot of hope for their newly revamped offense. The offense can't be much worse than it was last year when it tried to break all sorts of records for futility. Felix Hernandez is hoping to get the job done to get the team off on the right foot in 2012. Hernandez had the splits to be a 20-game winner last year. His ERA was a miniscule 3.47, and he struck out 222 batters in a healthy 233.2 innings of work. However, thanks to the poor offense, he went just 14-14. It was the third straight year in which Hernandez threw at least 230 innings, and there has to be some concern about how well he is going to hold up if he keeps throwing like this. In his career against the A's, Hernandez is a whopping 12-4 in his 21 starts with three complete games under his belt. He has just a 2.54 ERA and a 1.14 WHIP against them. Seattle is also a stellar 14-3 against Oakland in Hernandez's last 17 starts against his divisional rival.
Join the BTB Expert Handicappers right now! Click Here for our guaranteed MLB picks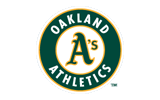 General Manager Billy Beane has once again put together a team in 2012 with the "Moneyball" approach, and it once again, it could end up paying off. This is going to be a very young team, and the man of the hour that is going to be watched closely is Yoenis Cespedes. The Cuban is still just 26 years old, and he has all of the tools to be a tremendous player in this league. If you want to look at the definition of Moneyball, the picture that you are going to see on Wednesday, Brendan McCarthy is the perfect example. McCarthy has just awesome splits for Sabermetrics. Last year, he struck out 123 batters and walked just 25, and his 11 home runs allowed in 25 starts is a great stat as well. He has a .258 batting average against and a 1.13 WHIP. A 3.32 ERA is probably a tad luckier than it should be for a guy with a 4.17 career ERA, but still, five complete games and a shutout are just tremendous. The problem? He only went 9-9 in those games. This has been the problem for McCarthy's entire career, as he is just 29-33 in 135 appearances.
The Final Word: For the first game of the year, we are going to be giving the nod to the M's. Yes, they are the road team in this one, but you know that they are going to have the support of all of the Japanese fans with Ichiro leading off. McCarthy might have been a tough luck .500 pitcher last year, but so was Hernandez, and the latter is clearly the better choice to pick on Opening Day.
Oakland Athletics vs. Seattle Mariners Pick: Seattle Mariners -130