ESPN's Monday Night Baseball betting action heads to the Bronx, where the New York Yankees will look to get the best of the Minnesota Twins.
Looking for the best sports handicappers on the internet? Look no further than the Expert Sports Handicappers here at Bang the Book. Click Here to check out the best gambling picks that you'll find anywhere!
The Twins haven't had a heck of a lot of luck in the Big Apple over the course of the last several seasons, including a number of losses in the playoffs to the Bronx Bombers. On Monday, one of their best arms, that of Carl Pavano is going to be on the bump. Pavano really might have hit the end of his rope, though. He followed up a 17-11 season in 2011 with a 9-13 one in 2011, and he has fallen short in both of his first two outings of this year as well. The righty has a 5.93 ERA in his two starts, which seems to be on par with the fact that he had a 4.30 ERA last year. We know that Pavano is going to eat a heck of a lot of innings, but he only struck out 102 batters last year in 222.0 innings of work, and batters hit .294 against him. Pavano pitched in 13 games at the old Yankee Stadium, many of which came as a member of the Yanks, and he had a 6.12 ERA in 67.2 innings of work. This is just his second start in this stadium.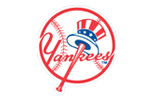 The Yankees' four-game winning streak came to a halt on Saturday with a bad 7-1 loss to the Los Angeles Angels. The rubber match is on Sunday, and to continue this home stand with some success, the offense is going to have to pick it up. The team as a whole is batting just .240 in its first eight games, and it has just eight homers and seven steals. That isn't going to cut it, and it is why the team is just 4-4 on the campaign. On Monday, the ball will get turned over to Freddy Garcia. At 35 years old, Garcia is still old there on the bump on a regular basis, and he is going to be looking for a lot better effort than he had against the Baltimore Orioles in his first outing of the year. Garcia conceded four runs, three of which were earned in just 4.2 innings of work, and he knows that he is going to need to do better to keep his spot in the rotation when Michael Pineda and Andy Pettitte get healthy and are ready to assume their spots in the fold.
Minnesota Twins @ New York Yankees Pick: If there is one thing that we will say about the Yanks, it is that they are always overrated. It is just impossible to support this team in this spot, knowing that the possibility is there that Garcia could be laying -180 or even more against a Minnesota team that is typically pretty bad. That doesn't mean that the percentages don't lie with the Twinkies though, and that's the direction we're going to go on Monday.
Free Baseball Pick: Minnesota Twins