The two teams that were in the NLCS a season ago meet on Saturday afternoon in the Gateway to the West in MLB betting action, as the St. Louis Cardinals look to get the best of the Milwaukee Brewers.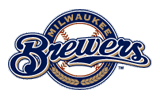 The Brewers have been a bit disappointing this year, going just 9-10 heading into play on Friday night. Sure, a sweep in St. Louis can get them back in a tie for first place in the NL Central, but it just isn't all that likely for that to happen. The team is good for just a .237 batting average, and that isn't going to cut it against a pitching staff that is this good. On Saturday, we expect to see Marco Estrada on the bump. Estrada has only had one start this year and seven last season for the Brewers, but he has been relatively efficient in relief as well. The righty has five relief appearances this year, and in total in his six outings, he has thrown 11.0 innings of work and has allowed just three runs for an ERA of 2.45. Batters are hitting just .179 against him, and he has a tremendous K/9 of 13.10. Estrada had a great outing against the Colorado Rockies at home in his last start, going five frames and striking out nine batters, allowing just one run on a solo homer.
The Cardinals are still doing well, considering the fact that they are taking the NL Central lead right out of the blocks, but they are nowhere near playing as flawlessly as perhaps they should be at this point. They just lost two out of three at the Chicago Cubs, and they really shouldn't have been losing in that series. The good news is this one though, is that Kyle Lohse is going to be on the mound. Lohse has been absolutely remarkable, going 3-0 with a team best 0.99 ERA and a 0.66 WHIP. Batters are hitting just .170 against him, and he only has two walks against 16 strikeouts. History tells you that Lohse is going to come back to earth at some point, as this is still a pitcher that is a game below .500 in his career, and this might be the spot for that to happen in. Lohse is just 4-8 with a 4.80 ERA in his career against the Brewers in 19 appearances, and that doesn't bode well for Saturday afternoon for the fans at Busch Stadium.
Join the BTB Expert Handicappers right now! Click Here for our guaranteed MLB picks
The Final Word: This looks like a lopsided pitching matchup in favor of the Cardinals, but we just don't see it that way. We know that we are going to be getting a great price on Estrada on Saturday, and we have full intent to take the Brewers in what should be a great game to kick off the weekend on FOX Sports.
Milwaukee Brewers @ St. Louis Cardinals Free Pick: Milwaukee Brewers