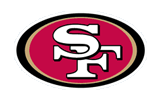 San Francisco 49ers

8-8 (9-4-3 ATS), 2nd Place NFC West in 2009

2008 was supposed to be the year that the San Francisco 49ers put themselves on the map in the NFL betting world to make the playoffs. It didn't happen. 2009 was supposed to be that year as well. Oops. With the rest of the division in flux, could 2010 finally be the year that one of the proudest franchises in the NFL makes it back to the postseason?


2010 Draft: The Niners had a bunch of draft picks this year, and they used those picks to finish shoring up their offensive line first and foremost. The additions of Anthony Davis out of Rutgers and Mike Iupati out of Idaho should give a lot more protection for QB Alex Smith, who will be in his second tour of duty as San Fran's starting quarterback. Don't discount the second round selection of USC FS Taylor Mays either. Many thought that Mays might have been the best safety on the board, and he was certainly a first round prospect. The 49ers will be glad to add him to the secondary as a starter in a heartbeat.

Offensive Outlook: HC Mike Singletary knows that his offense just has to put more points on the board than it did in 2009 to be successful this year. Smith came on strong at the end of last season, completing 60.5 percent of his passes for 2,350 yards and 18 TDs in just ten starts. His running game got a big boost from RB Frank Gore yet again, though only rushing for 1,120 yards and ten scores almost seems like a down season for the former Miami product. If you had projected WR Michael Crabtree's season out over a full 16 games, he would have had 70 catches for 910 yards. Not bad for a man that held out until the quarter pole of the regular season, huh? Now that the top wide out in the '09 draft is going to have a full year of camp under his belt, there's no telling just how much damage he can do to opposing secondaries.

Defensive Outlook: The linebackers for the 49ers are probably as fast as there is in the league. LBs Patrick Willis and Manny Lawson were all over the field last year, totaling 165 tackles and 10.5 sacks between the two of them. The question marks really came in the secondary, which is why Mays was added in the second round. San Fran conceded 229.4 yards per game through the air, ranking it just 21st of the 32 teams in the league. Scoring wasn't the major issue, as 17.6 points per game allowed was the fourth best mark in the NFL. Creating turnovers was a hassle at times though, as four interceptions led the team.

2010 Betting Outlook: If the oddsmakers don't catch up to how weak the NFC West really is, the 49ers could be a dream for NFL betting fans. There's a reason that the team went +5 in terms of games last year ATS. The Niners were especially strong at the outset of the year when they started off at 3-1 SU and 4-0 ATS. Watch out for 'unders' though, as San Fran hasn't played an 'over' game since November 22nd, and that span of six straight 'unders' is the longest in the league.

All Odds for 2010 NFL betting season can be found at Diamond Sportsbook.
San Francisco 49ers Odds To Win NFC West: +100
San Francisco 49ers Odds To Win NFC: +1500
San Francisco 49ers Odds To Win Super Bowl XLV: +3400
San Francisco 49ers Regular Season Win Total: 8.5 over -165
Anything less than five wins in division will be a brutal disappointment this year for the 49ers. Aside from that, games against Kansas City, Oakland, Carolina, and Tampa Bay should all be easy 'W's as well. This team probably isn't going to be anywhere near as good as its record will be at season's end, but there's no reason not to get into the tournament this year. The NFC West should be decided well before Christmas.

San Francisco 49ers Predictions: 11-5, 1st Place in NFC West

2010 San Francisco 49ers Schedule
Week 1 - Away @ Seahawks
Week 2 - Home vs. Saints
Week 3 - Away @ Chiefs
Week 4 - Away @ Falcons
Week 5 - Home vs. Eagles
Week 6 - Home vs. Raiders
Week 7 - Away @ Panthers
Week 8 - Home vs. Broncos
Week 9 - Bye
Week 10 - Home vs. Rams
Week 11 - Home vs. Tampa Bay
Week 12 - Away @ Cardinals
Week 13 - Away @ Packers
Week 14 - Home vs. Seahawks
Week 15 - Away @ Chargers
Week 16 - Away @ Rams
Week 17 - Home vs. Cardinals