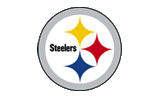 Pittsburgh Steelers

9-7 (5-10-1 ATS), 3rd Place AFC North in 2009

The chinks are starting to show for the first time in the better part of a decade for the Pittsburgh Steelers, as they failed to make the postseason last year for the first time since 2003. Could this be the first time that the team fails to make the playoffs in back-to-back years since 1999 and 2000? The handwriting is certainly on the wall that this could be the driest run that "Blitzburgh" has seen in quite some time.




2010 Draft: It wasn't a particularly flashy draft for the Steelers, but they add to their offensive line by picking up Florida Gators OL Maurkice Pouncey to play either guard or center. Keep a close eye as well on sixth round selection RB Jonathan Dwyer, whom many thought could have been a second day pick. Dwyer is built like a prototypical Steelers back at 5'11" 230 lbs, and even though he won't unseat RB Rashard Mendenhall, he could provide some valuable carries, especially as the season wears on.

Offensive Outlook: Off the field issues have absolutely crippled the Steelers in this offseason. WR Santonio Holmes was traded to the New York Jets for essentially nothing after he had a run in with the law that ultimately got him suspended for the first four games of the season. The bigger blow was QB Ben Roethlisberger, who also violated the personal conduct policy of the NFL and has been suspended for at least the first four games of the year. There is a big question mark about who is going to be the man taking snaps in those first four games, but regardless of who it is, look for Mendenhall to be asked to carry the load early and often. He might have a hard time running off tackle though, as OT Willie Colon is already out for the season with a torn Achilles tendon.


Defensive Outlook: DC Dick LeBeau certainly has his work cut out for him this year if the offense can't get things going. The Steelers did rank fifth in the league in total defense at 305.3 yards per game in 2009, but allowing 215.4 passing yards (16th) and 20.2 points (13th) per game was something that was unfathomable for a black and gold defense. Not a ton of help is on the way either, though DB Brian McFadden is coming back from Arizona to fill in as a nickel corner. It's hard to believe that three interceptions led this team last year, and if that happens again, it could be a very, very long season in Steeltown.

2010 Betting Outlook: Few teams burned as much money for NFL betting fans as did the Steelers in 2009, as they went just 5-10-1 ATS. They were particularly woeful in a stretch of five games from the middle of November through the middle of December when they went 0-5 SU and 1-4 ATS. The Steelers only had one cover in the L/5 weeks of the year, that coming in the regular season finale at Miami which knocked the Fins out of the playoffs. Pittsburgh is once again going to be overhyped by the oddsmakers this year, though playing without Roethlisberger for the first month of the season is going to set up some shaky lines. We suggest staying away from this team until the lines regulate themselves.



All Odds for 2010 NFL betting season can be found at 5Dimes Sportsbook.
Pittsburgh Steelers Odds To Win AFC North: +250
Pittsburgh Steelers Odds To Win AFC: +1000
Pittsburgh Steelers Odds To Win Super Bowl XLV: +2000
Pittsburgh Steelers Regular Season Win Total: 9 over +130

Whatever the oddsmakers are on lining this team at nine wins this year, we want some of it. This squad clearly isn't as strong this year as it was a year ago when it went 9-7, especially considering the Roethlisberger suspension. Losing all four games before the bye week is a legitimate possibility. Still, finishing second in this division is a legitimate possibility, but we don't see the playoffs in this team's future at all unless HC Mike Tomlin can start to make some miracles happen. If not, he may be the first Pittsburgh coach on the hot seat in seemingly forever.


Pittsburgh Steelers Predictions: 7-9, 2nd Place in AFC North


2010 Pittsburgh Steelers Schedule
Week 1 - Home vs. Falcons
Week 2 - Away @ Titans
Week 3 - Away @ Buccaneers
Week 4 - Home vs. Ravens
Week 5 - Bye
Week 6 - Home vs. Browns
Week 7 - Away @ Dolphins
Week 8 - Away @ Saints
Week 9 - Away @ Bengals
Week 10 - Home vs. Patriots
Week 11 - Home vs. Raiders
Week 12 - Away @ Bills
Week 13 - Away @ Ravens
Week 14 - Home vs. Bengals
Week 15 - Home vs. Jets
Week 16 - Home vs. Panthers
Week 17 - Away @ Browns