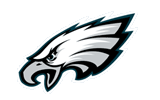 Philadelphia Eagles

11-5 (9-7 ATS), 2nd Place NFC East in 2009

Little did anyone in the City of Brotherly Love know that when the Philadelphia Eagles walked off of the field at Dallas Cowboys Stadium following a 34-14 loss in the Wild Card round of the playoffs that it would be the last time that QB Donovan McNabb would ever put on a green and white uniform. The Eagles are going to be in for an interesting season without #5 under center, but there is plenty of reason to believe that this won't be a case of a rebuilding season.
2010 Draft
: There weren't many draft picks that the Eagles used in 2010 that weren't spent on players from big name schools. DE/LB Brandon Graham is a linebacker or defensive end that is built a lot in the Jevon Kearse type of mold as a guy that will get around the corner in a hurry to put pressure on opposing quarterbacks. DE Trent Cole now has a pass rushing mate to join him, which could make for a tremendous duo of bookends after Cole recorded 12.5 sacks a year ago.
Offensive Outlook
: HC Andy Reid has always been a pass first kind of coach, and QB Kevin Kolb is certainly familiar with that type of a system having quarterbacked at the University of Houston in a system that Case Keenum is shattering all of his records in right now. Kolb looked okay in relief of McNabb last season, throwing for 741 yards and four TDs in just a pair of starts with three other relief appearances. The running game is clearly not going to be the same without RB Brian Westbrook, but the receiving duo of Jeremy Maclin and DeSean Jackson is about as fast as it gets. With QB Michael Vick ready to prove that he can once again be a starting quarterback in this league, that Wildcat look that Reid showed a lot last season may become a heck of a lot more dangerous than it was last year. Philly's offense might not produce the same type of numbers that it did last year when it scored 26.8 points per game, but the unit should be a fun one to watch progress over the course of the season.
Defensive Outlook
: DB Marlin Jackson was supposed to help cure the safety problem that the team has had ever since SS Brian Dawkins left the City of Brotherly Love. However, a ruptured Achilles ended that dream for 2010 in a hurry. There is a huge void right now in the Philly secondary, and it remains a question whether Macho Harris is capable of starting in this league on a regular basis or not. Trading for LB Ernie Sims in the offseason was a nice addition, but there are too many holes to fill for this unit to be considered an elite one, at least at the outset of the year.
2010 Betting Outlook
: 'Over' bettors went 10-6 last year in Eagles games, and unless the oddsmakers come out firing with numbers in the low to mid-50s, that type of record may strike once again. We can plainly see with the Week 1
NFL betting lines
(Philly is a pick 'em against Green Bay in Week 1) that the Eagles are probably going to be a bit overhyped without McNabb calling the shots, as there are bound to be some growing pains for Kolb and the offense, as well as for a young defense.
All Odds for 2010 NFL betting season can be found at 5Dimes Sportsbook.
Philadelphia Eagles Odds To Win NFC East: +270
Philadelphia Eagles Odds To Win NFC: +800
Philadelphia Eagles Odds To Win Super Bowl XLV: +1800
Philadelphia Eagles Regular Season Win Total: 9 over +130

Considering the fact that the rough and tumble AFC South is the division on the other side of the bracket that the Eagles have to run up against, this schedule is amongst the hardest in the league. Dates with Green Bay, San Francisco, and Atlanta won't be walks in the park either. Philly had better go into its bye week with a great record, because starting the month of November, there are games against the Colts, Redskins (in McNabb's first home game against his former team), Giants, Bears, Texans, Cowboys, Giants, Vikings, and Cowboys to finish the regular season. It's hard to see, with a schedule like that, how this team is going to top the .500 mark unless the defense is significantly better than we think and Kolb is ready to be a real leader.

Philadelphia Eagles Predictions: 7-9, 3rd Place in NFC East

2010 Philadelphia Eagles Schedule
Week 1 - Home vs. Packers
Week 2 - Away @ Lions
Week 3 - Away @ Jaguars
Week 4 - Home vs. Redskins
Week 5 - Away @ 49ers
Week 6 - Home vs. Falcons
Week 7 - Away @ Titans
Week 8 - Bye
Week 9 - Home vs. Colts
Week 10 - Away @ Redskins
Week 11 - Home vs. Giants
Week 12 - Away @ Bears
Week 13 - Home vs. Texans
Week 14 - Away @ Cowboys
Week 15 - Away @ Giants
Week 16 - Home vs. Vikings
Week 17 - Home vs. Cowboys