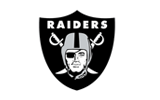 Oakland Raiders

5-11 (8-8 ATS), 3rd Place AFC West in 2009

Life hasn't been easy as an Oakland Raiders fan of late, that's for certain. The last memories that the squad has of the postseason came back in January 2003 when the team's former head coach, Jon Gruden, was celebrating a Super Bowl victory with the Tampa Bay Buccaneers in a game that had to rip the hearts of silver and black clad fans out everywhere. However, there is at least a glimmer of hope in 2010, as Oakland took a lot of positive steps in the right direction to make a run at the playoffs once again.



2010 Draft: Someone must have taken the draft card away from Al Davis. The owner of the Raiders has seemingly been enamored with taking the flashiest players on the board, particularly in the first round of the NFL Draft in recent years. Most have failed miserably. This one shouldn't. LB Rolando McClain is the second straight Alabama middle linebacker to come out of college full of hype. His predecessor? LB DeMeco Ryans with the Houston Texans, who has been a Pro Bowler and won Defensive Rookie of the Year a few seasons ago. This is a major draft selection for a team that was in bad need of a middle linebacker to captain the defense, and McClain should immediately step in and be a force.

Offensive Outlook: Thanks goodness the JaMarcus Russell experiment is now over in Oakland. The times have changed quite a bit, as QB Jason Campbell was picked up from the Washington Redskins for essentially nothing during the NFL Draft. We absolutely love the prospects of Campbell in silver and black, as he tossed 20 touchdowns and threw for over 3,600 yards a year ago with no help whatsoever in Washington. Unfortunately, he is still getting a comparable amount of help in Oakland, but at least Campbell is a sign that times are changing for an offense that ranked second to last in the league in yardage (266.1 yards per game) and scoring (12.3 points per game).

Defensive Outlook: As a former offensive lineman, HC Tom Cable expects his team to be tough, and it was the defense that at least tried to keep the team competitive at times in 2009. No, allowing 361.9 yards and 23.7 points per game isn't good enough to win games on a regular basis, but when the team played at its best, the defense was sharp. There are a few real names of note on this defense, as DE Richard Seymour, DB Nnamdi Asomugha, and Michael Huff could all start on most teams in the league, but there are probably still 4-5 holes that really need to be filled badly in order for the Raiders to feel good about their defense.


2010 Betting Outlook: It wasn't an accident that the Raiders went 8-8 last year ATS in spite of the fact that they were six games below .500 at the end of the year. This is a team that fights and fights hard, and now that there is at least a little bit more talent on the squad, it could really show on the stat sheet and against the NFL betting odds. Especially if you're catching big numbers on a regular basis, don't be afraid to back the silver and black.


All Odds for 2010 NFL betting season can be found at 5Dimes Sportsbook.
Oakland Raiders Odds To Win AFC West: +750
Oakland Raiders Odds To Win AFC: +7000
Oakland Raiders Odds To Win Super Bowl XLV: +25000
Oakland Raiders Regular Season Win Total: 6 over +110

No, the Raiders aren't winning the Super Bowl this year, but they really don't have to in order to impress their fans. Just making progress is great, and everyone in Raider Nation would be ecstatic to see the squad finish at .500 and at least play a few meaningful games after Thanksgiving. Oakland gets out of the gutter in the AFC West and back into the thick of things this year and could be just a year or two more away from being in the postseason once again.


Oakland Raiders Predictions: 7-9, 2nd Place in AFC West


2010 Oakland Raiders Schedule
Week 1 - Away @ Titans
Week 2 - Home vs. Rams
Week 3 - Away @ Cardinals
Week 4 - Home vs. Texans
Week 5 - Home vs. Chargers
Week 6 - Away @ 49ers
Week 7 - Away @ Broncos
Week 8 - Home vs. Seahawks
Week 9 - Home vs. Chiefs
Week 10 - Bye
Week 11 - Away @ Pittsburgh
Week 12 - Home vs. Dolphins
Week 13 - Away @ Chargers
Week 14 - Away @ Jaguars
Week 15 - Home vs. Broncos
Week 16 - Home vs. Colts
Week 17 - Away @ Chiefs