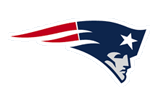 New England Patriots

10-6 (7-7-2 ATS), 1st Place AFC East in 2009

With the return of QB Tom Brady to the lineup after a year's absence due to injury, the New England Patriots didn't nearly live up to all of the hype that surrounded them in 2009. The 2010 NFL betting campaign doesn't bring the same sort of expectations, but the Pats are once again amongst the favorites to win the Super Bowl.


2010 Draft: Florida Gators, anyone? HC Bill Belichick snared former blue and orange clad players all over the place in this year's draft, grabbing DE Jermaine Cunningham, LB Brandon Spikes, and TE Aaron Hernandez. First round draft selection DB Devin McCourty will immediately step into the starting secondary, while P Zoltan Mesko might have been the best value pick in the entire draft in the fifth round. Hernandez was one of the two tight ends that Belichick selected in this draft, as TE Rob Gronkowski was also picked in the second round out of Arizona. Odds have it, with both Ben Watson and Chris Baker leaving, Gronkowski is going to be the starter at tight end at the outset of the season.

Offensive Outlook: Is Tom Brady really the best quarterback in the NFL at this point? Probably not. It seems as though the field has caught and started to surpass Brady in spite of the fact that he really didn't do anything wrong last season. It's hard to argue with a man that throws for 4,398 yards. However, averaging 26.7 points per game almost seems pedestrian after some of the ridiculous stats that the Brady Bunch put up in 2007. WR Randy Moss is about to enter elite company, as he is the second man in NFL history that will have 1,000 catches, 15,000 receiving yards, and 150 touchdown receptions in his career. The rushing game could still use some work, as 120.1 yards per game seems light, especially considering the fact that that was just the 12th best mark in the league. Look for RB Laurence Maroney to be on notice that this could be his last season as a starter in New England if he doesn't produce more with his chances.

Defensive Outlook: The Pats really showed some signs of age on their defense last year, as they had mediocre numbers across the board and failed to shut down opposing offenses in some critical junctures of the season. Averaging allowing 320.2 yards per game won't make Belichick a happy camper, though if the team can hold foes anywhere near 17.8 points per game again, New England should be winning plenty of games. McCourty and the plethora of Gators should be given chances to earn starting jobs with some of the veterans that this defense still has available.

2010 Betting Outlook: The Pats are overrated seemingly each and every week, and though it didn't bite them last year in a 7-7-2 ATS campaign, it very well could in 2010. New England has to figure out how to deal with blitzing defenses better. The Jets, Ravens, Texans, and Dolphins all have one thing in common, and that's that they love to attack the quarterback. Against those four teams, New England went a combined 3-3 SU and just 1-4-1 ATS. If more teams catch on to this, it could be a long year in Foxboro.
All Odds for 2010 NFL betting season can be found at Diamond Sportsbook.
New England Patriots Odds To Win AFC East: +130
New England Patriots Odds To Win AFC: +600
New England Patriots Odds To Win Super Bowl XLV: +1200
New England Patriots Regular Season Win Total: 9.5 over -125

We find it hard to believe that Belichick won't find a way to go at least 10-6 with this schedule presented to him. Two games with Miami, two with Buffalo, and ones with Detroit, Chicago, Cleveland, and Cincinnati should yield at least 6-7 wins, and that doesn't even include the rest of the slate. New England probably isn't as strong as the lines on a week to week basis will suggest, but there really isn't much of a doubt that this should be a postseason team that wins at least double digits in NFL betting battles. Winning the AFC East could be a significantly different question, though.

New England Patriots Predictions: 10-6, 2nd Place in AFC East

2010 New England Patriots Schedule
Week 1 - Home vs. Bengals
Week 2 - Away @ Jets
Week 3 - Home vs. Bills
Week 4 - Away @ Dolphins
Week 5 - Bye
Week 6 - Home vs. Ravens
Week 7 - Away @ Chargers
Week 8 - Home vs. Vikings
Week 9 - Away @ Browns
Week 10 - Away @ Steelers
Week 11 - Home vs. Colts
Week 12 - Away @ Lions
Week 13 - Home vs. Jets
Week 14 - Away @ Bears
Week 15 - Home vs. Packers
Week 16 - Away @ Bills
Week 17 - Home vs. Dolphins