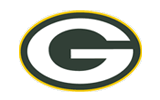 Green Bay Packers

11-5 (11-4-1 ATS), 2nd Place NFC North in 2009

As one of the best young teams in the NFL, there are tons of expectations for the Green Bay Packers after an 11-5 season a year ago. A first round playoff exit to the Arizona Cardinals was disappointing, but the path looks clear towards another run towards the Super Bowl in 2010, and anything less than a very competitive season will be a huge disappointment.
2010 Draft
: Getting bulkier and more physical is clearly what the goal was for the Packers in the draft, and they nabbed a pair of heavy eaters in the first two rounds with OT Bryan Bulaga and DT Mike Neal. Bulaga might not step in and start immediately, but he is going to be a cog for this offensive line for years to come and will get a chance to learn from veterans Chad Clifton and Mark Tauscher. Neal will probably only be used in pass rush situations at tackle early in his career. Watch out for R3 selection SS Morgan Burnett out of Georgia Tech, as he could immediately step in and become a starter in a Green Bay secondary that does have its holes.
Offensive Outlook
: If you were to start a franchise right now for the next ten years, is there a quarterback that you'd rather have as the captain of your team than QB Aaron Rodgers? Rodgers has had back-to-back 4,000+ yard seasons in his first two years replacing QB Brett Favre in Green Bay, and he only appears to be getting better and better. Both WRs Greg Jennings and Donald Driver were 1,000+ yard receivers a year ago, and both are expected to put up similar numbers again in 2010. RB Ryan Grant has now had 1,000+ yards of total offense in three straight seasons. All things told, Green Bay ranked #5 in total offense last year in the league at 379.8 yards per game and #3 in scoring at 28.8 points per game, which is going to be the benchmark for success for this unit again in '10.
Defensive Outlook
: On the other side of the ball, the Green Bay defense was absolutely terrorizing at times last season. The unit only allowed 284.4 yards per game, and its 83.3 yards per game on the ground given up was tops in the NFL. There were times that the secondary looked a bit like Swiss cheese, but all things told, this was one of the most impressive units that the league had to offer in 2009. Youngsters are all over the field, so this unit should only get better. LB Clay Matthews had ten sacks in his rookie season. The biggest question is whether DB Charles Woodson is going to continue to be a force in the secondary or not. He had nine picks and three touchdowns last season on defense, as he appeared to find the proverbial Fountain of Youth. If not, there are still plenty of secondary options to pick up the slack though, particularly FS Nick Collins, who had six INTs last season as well.
2010 Betting Outlook
: At 11-4-1 ATS, there was no team in the NFL that did more for NFL betting fans than the Pack did. Living up to those expectations again this season is going to be difficult, especially since many think that this is Green Bay's division to lose regardless of whether QB Brett Favre returns to Minnesota or not. Lambeau Field has a history of being a house of horrors for opponents, and that will probably once again be no exception this year.
All Odds for 2010 NFL betting season can be found at Diamond Sportsbook.
Green Bay Packers Odds To Win NFC North: +135
Green Bay Packers Odds To Win NFC: +650
Green Bay Packers Odds To Win Super Bowl XLV: +1500
Green Bay Packers Regular Season Win Total: 9.5 over -165
If the Packers can escape Philadelphia with a win in the opening week of the season, there is a fantastic chance for this team to be perhaps 6-2 going into Halloween. The schedule down the stretch is difficult, especially in a stretch with four road games in five weeks that will see the Pack play just one game at Lambeau Field between the 8th of November and Christmas. However, this is clearly the most talented team in the NFC North, and at least one, if not two playoff games at home should be the end result.

Green Bay Packers Predictions: 12-4, 1st Place in NFC North

2010 Green Bay Packers Schedule
Week 1 - Away @ Eagles
Week 2 - Home vs. Bills
Week 3 - Away @ Bears
Week 4 - Home vs. Lions
Week 5 - Away @ Redskins
Week 6 - Home vs. Dolphins
Week 7 - Home vs. Vikings
Week 8 - Away @ Jets
Week 9 - Home vs. Cowboys
Week 10 - Bye
Week 11 - Away @ Vikings
Week 12 - Away @ Falcons
Week 13 - Home vs. 49ers
Week 14 - Away @ Lions
Week 15 - Away @ Patriots
Week 16 - Home vs. Giants
Week 17 - Home vs. Bears