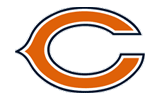 Chicago Bears

7-9 (6-10 ATS), 3rd Place NFC North in 2009

After making the splash of the 2009 offseason by trading with the Denver Broncos to acquire QB Jay Cutler, the Chicago Bears were supposed to be one of the teams to beat in the entire NFL last season. However, a disappointing 7-9 season was the end result. Now, HC Lovie Smith and the entire brass in the Windy City are going to be sitting squarely on very hot seats, as this is a make or break year upcoming for this franchise.

2010 Draft: Thanks to the fact that the Bears made so many offseason moves over the L/2 seasons, they really didn't have much of a draft to speak of. There probably won't be any huge impacts on either side of the ball in terms of rookies this year.

Offensive Outlook: Can you please hold onto the football, Mr. Cutler? No one is arguing with the fact that Cutler completed 60.5 percent of his passes, threw for 3,666 yards, or tossed 27 touchdown passes a year ago. The complaint is that he was a total nutcase at times in the pocket and threw an NFL worst 26 interceptions. The Vanderbilt product had multiple picks in seven of his 16 starts last season. That's awful news for a team that averaged just 93.2 yards per game on the ground. Things may get better in the rushing department, as RB Chester Taylor has been signed via free agency, and he should immediately step in and perform better than the underachieving Matt Forte, who ran for just 929 yards in his sophomore season in the league.


Defensive Outlook: When the Bears made it to the Super Bowl a few seasons ago, they built their team on a strong defense. Smith probably didn't have in mind allowing 23.4 points per game as Chicago did in 2009. Yes, perhaps we should be giving this team a pass for not having LB Brian Urlacher for the entire season, and the defense end positions were all a mess. Only DE Alex Brown started all 16 games for the unit. However, in 2010, Urlacher should be back, and DE Julius Peppers was brought in to shore up that pass rush, which only mustered 34 sacks all season long in '09. Peppers was arguably the biggest free agent signing that the NFL has seen in over a decade, and lining up next to DT Tommy Harris could cause a resurgence of the "Monsters of the Midway." Only DB Zackary Bowman had more than two picks in the secondary all season long, a statistic that must change for the Bears to compete in a highly offensive minded division this year.

2010 Betting Outlook: The Bears were major money burners last season because of Cutler's antics. The good news is that the NFL odds should be significantly more in favor of Chicago this season because the team doesn't have expectations that are nearly as high as they were a year ago at this time. The bad news is that we still aren't so sure that Cutler really has his stuff together.

All Odds for 2010 NFL betting season can be found at Bookmaker Sportsbook.
Chicago Bears Odds To Win NFC East: +350
Chicago Bears Odds To Win NFC: +1700
Chicago Bears Odds To Win Super Bowl XLV: +3700
Chicago Bears Regular Season Win Total: 8 over +110
The bottom line here is very simple. If Cutler is really an NFL quarterback and can cut his INTs in half, the Bears are going to be amongst the scariest teams in the NFL. If not, they will once again struggle and will most likely self-destruct at some point during the course of the season. The schedule is easy enough to open the season that a 6-3 record through nine games is a very real possibility, and if that's the case, this team could eke out nine wins to cross past their season win total. Still, it won't be enough to reach the playoffs unless Minnesota falls flat on its face.

Chicago Bears Predictions: 9-7, 3rd Place in NFC North

2010 Chicago Bears Schedule
Week 1 - Home vs. Lions
Week 2 - Away @ Cowboys
Week 3 - Home vs. Packers
Week 4 - Away @ Giants
Week 5 - Away @ Panthers
Week 6 - Home vs. Seahawks
Week 7 - Home vs. Redskins
Week 8 - Bye
Week 9 - Away @ Bills
Week 10 - Home vs. Vikings
Week 11 - Away @ Dolphins
Week 12 - Home vs. Eagles
Week 13 - Away @ Lions
Week 14 - Home vs. Patriots
Week 15 - Away @ Vikings
Week 16 - Home vs. Jets
Week 17 - Away @ Packers