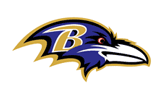 Baltimore Ravens

9-7 (8-7-1 ATS), 2nd Place AFC North in 2009

2009 was yet another one of those seasons for the Baltimore Ravens where they won just enough games to make the playoffs, marched in without any expectations whatsoever, and immediately ended the dreams for a team that thought they could win the Super Bowl. Every year the men in purple are considered legitimate contenders for the Lombardi Trophy, and this year might not be any exception.


2010 Draft: The Ravens ended up with two second round picks this year and capitalized by taking two first round talents. DE Sergio Kindle could be moving to outside linebacker, a la Terrell Suggs, while DT Terrence Cody clearly could line up next to Haloti Ngata and make the biggest tackle tandem in the league. Don't rest on the third and fourth round selections for Baltimore either, as TEs Ed Dickson and Dennis Pitta might be the best two pass catching tight ends in this draft outside of Jermaine Grisham. The Ravens certainly gave themselves some tremendous depth in this draft.

Offensive Outlook: The acquisition of the offseason had absolutely nothing to do with the draft, though for Baltimore. The Ravens traded for WR Anquan Boldin, which finally gives the team another receiving option outside of WR Derrick Mason. Boldin has been a 1,000 yard receiver five times in his career, and though it's hard to believe, he is probably just two seasons away from 10,000 yards. The rushing attack has always been stellar for Baltimore, and last season was no exception. RBs Ray Rice and Willis McGahee combined to average 117.7 yards and 1.2 touchdowns per game last year, while each averaged at least five yards per game. With QB Joe Flacco getting more comfortable in his role after a 3,600+ yard season, the Ravens might have the most explosive offense in the AFC North.

Defensive Outlook: And then there's the defense. Sure, LB Ray Lewis has lost a step or two, and SS Ed Reed is coming up on the tail end of his career as well, but it feels like this team just continues to stockpile talent through the draft every single year. Kindle and Cody could step in and be starters if need be, and in past drafts, the likes of Suggs and Ngata have made this unit tremendously lethal. Perhaps there are a few questions in the secondary, where the Ravens "only" ranked eighth in the NFL last year at 207.2 yards per game allowed, but the truth of the matter is that this is a unit that is going to blitz you all the time and create tons of turnovers by utilizing its speed all over the field. Expect a top five effort from Baltimore's 'D' once again in 2010.

2010 Betting Outlook: Unfortunately, the Ravens are constantly getting the nod from the oddsmakers, but every year it feels like there are one or two games that they are short underdogs or short favorites in that they crush the spread... look no further than the Wild Card playoff game against the Pats for proof of that. Where this team really cashed in last year was for 'under' bettors, which went a solid 9-6-1. However, with the moniker of being a defensive team surrounding them, Flacco and the gang could put up a lot more points this year, which could see plenty of games get into the 40s that are lined in the mid to high 30s for the Ravens on the season.

All Odds for 2010 NFL betting season can be found at Diamond Sportsbook.
Baltimore Ravens Odds To Win AFC North: -120
Baltimore Ravens Odds To Win AFC: +850
Baltimore Ravens Odds To Win Super Bowl XLV: +1700
Baltimore Ravens Regular Season Win Total: 10 over -120

Asking this team to win 11 games this year is going to be tough, even if the AFC North is weaker this year than normal. However, the Ravens should be up to the challenge to get back to the postseason once again, this time with the division title in tote. We think that the oddsmakers got this one exactly right on a team that could be a real spoiler for the rest of the AFC this year. Don't be shocked if the Ravens end up in the Super Bowl once again.

Baltimore Ravens Predictions: 10-6, 1st Place in AFC North

2010 Baltimore Ravens Schedule
Week 1 - Away @ Jets
Week 2 - Away @ Bengals
Week 3 - Home vs. Browns
Week 4 - Away @ Steelers
Week 5 - Home vs. Broncos
Week 6 - Away @ Patriots
Week 7 - Home vs. Bills
Week 8 - Bye
Week 9 - Home vs. Dolphins
Week 10 - Away @ Falcons
Week 11 - Away @ Panthers
Week 12 - Home vs. Buccaneers
Week 13 - Home vs. Steelers
Week 14 - Away @ Texans
Week 15 - Home vs. Saints
Week 16 - Away @ Browns
Week 17 - Home vs. Bengals