NFL Week 14 Odds: Cleveland Browns @ Pittsburgh Steelers Pick
Updated: December 8, 2011
Looking For Expert NFL Picks? Checkout BTB Cappers – Offering free and premium picks and tips!
Two of the biggest rivals in the NFL duke it out on the NFL Network's Thursday Night Football betting action, as the Pittsburgh Steelers look to add to the misery of the Cleveland Browns.
Every time that the Browns have had a chance to get back into the playoff picture this year, they have blown it, and now, they are almost certainly out of chances with three games to make up in just four weeks. Their offense just isn't good enough to get the job done on a regular basis. They rank No. 30 in the league in total offense at 290.8 yards per game, and they are only averaging 93.8 yards per game on the ground, also No. 30. Though they are a slightly better No. 28 in the league in points at 14.6 per game, most seasons, that would be the worst mark in the NFL. WR Josh Cribbs leads the team in scores this year with four, and the team as a whole only has 17 offensive TDs in 12 games. That's a big "Yuck," to say the least. The ground game is back intact once again, as RB Peyton Hillis has now looked good in back to back weeks, but he probably won't be getting much traction against a Pittsburgh defense that generally totally thwarts opposing ground games. That being said, the pressure will be on WR Greg Little, the team's leading receiver to perform. Little isn't exactly your average top receiver though, as he only has 50 catches for 513 yards and one TD.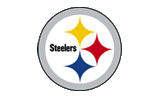 The Steelers have won three games in a row, and they have won three in a row on the road after losing two of their first three games outside of the Steel City. They are still trying their best to get past the Baltimore Ravens and into first place in the AFC North, and with only one game left this year in which they won't be favored by at least a touchdown (next week @ San Francisco), one would like to think that if they do get into first place, that they won't be relenting that title for the rest of the year. A win and some help will get the Steelers a playoff berth this week, though they know that two more wins will get the job done regardless. Over these last two weeks, Pittsburgh's defense as only allowed one touchdown and three field goals, and the unit is really starting to look a lot more like the dominating defense we have come to know and love, and a lot less like the one that allowed 58 points in two games against the Baltimore Ravens. Against the rest of the NFL, this Blitzburgh defense is allowing just 13.6 points per game.
Cleveland Browns @ Pittsburgh Steelers Trends: The Browns are a dreadful 1-7 ATS in their last eight games against teams with winning records, and they are only 3-11-2 ATS in their last 16 games overall, the worst such mark in the league. Pittsburgh is 7-2 ATS in its last nine home games, and it is 8-2 ATS in its last 10 games in division. Both failed cover attempts came against Baltimore. The Steelers have only been beaten SU once in this series in the last five years, though Cleveland does have a respectable 4-5-1 ATS mark in those 10 games.
The following two tabs change content below.
Adam Markowitz
is a staff writer living in the Orlando area. He has covered NFL, MLB, college football, CFL, AFL, NBA, college basketball, NASCAR, golf, tennis, and the NHL for a number of various outlets in his career, and he has been published by a number of different media outlets, including the Orlando Sentinel and the Wall Street Journal.
Latest posts by Adam Markowitz (see all)