NFL Pick: San Diego Chargers @ Detroit Lions Preview
Updated: December 23, 2011


For the first time in two decades, the Detroit Lions can lock up a playoff bid if they can find a way to beat the San Diego Chargers on the Week 16 NFL lines in the final game of the season at Ford Field.
It seems as though every season, the Chargers lose that one game right around Week 12 or 13 that makes us write them off. This year, the loss came at home to the Denver Broncos in overtime, and we were all absolutely convinced that their season was over with at that point. They announced that Head Coach Norv Turner would be fired at the end of the season, at that point, but they still had the guts to turn it around, get back to .500, and now find themselves at least with a respectable chance to get into the postseason. QB Philip Rivers has seven TDs and no INTs in his last three games after leading the league in picks for a few weeks in the middle of the season, and you can tell the difference of intensity that this team is playing with. The Bolts need the Denver Broncos to lose twice and two wins to win the AFC West, but if they can win both of their final two games, they will at least have a shot of getting into the postseason as a Wild Card as well. One would have to feel like 9-7 in some respect, would get the job done and make San Diego a team that no one wants to face in the first round of the playoffs.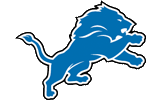 Meanwhile, last week's win for the Lions might prove to be the one that finally gets them back in the playoffs. They were able to rally behind huge games by WR Calvin Johnson and QB Matt Stafford to beat the Oakland Raiders on the road to guarantee themselves a winning record on the campaign. Now, they need either one more win or losses by a number of different combinations of teams to get into the second season. They won't want to take any chances with this one though, as they have the Green Bay Packers next week at Lambeau Field. Though Green Bay might take it a tad easy in that one, the chance to knock a very dangerous team out of the playoffs might be too much for Head Coach Mike McCarthy to pass up. The problem that Detroit really has is that it doesn't have a rushing game. RB Jahvid Best is still leading the team in rushing even though he hasn't played since Week 6, and there are individual backs in the game that are going to have more rushing yards than the entire Lions team will.
San Diego Chargers @ Detroit Lions Trends: The Chargers are only 2-5-1 ATS in their last eight road games, which is a bad omen going forward, but they are clearly playing against a Detroit team that isn't in the greatest of form and is getting away with winning games at the end. These two teams have only met four times since 1996, and all four were won and covered by the Bolts, including a 51-14 win at Qualcomm Stadium in 2007.
BTB's Expert Cappers have all the hottest NFL Picks for week 16 – Checkout Jack's Saturday NFL 3-Pack of Profits! (25* NFL GOTY Inside) Click Here
The following two tabs change content below.
Adam Markowitz
is a staff writer living in the Orlando area. He has covered NFL, MLB, college football, CFL, AFL, NBA, college basketball, NASCAR, golf, tennis, and the NHL for a number of various outlets in his career, and he has been published by a number of different media outlets, including the Orlando Sentinel and the Wall Street Journal.
Latest posts by Adam Markowitz (see all)