NCAA Football Pick: Stanford vs. USC Pick
Updated: October 26, 2011
The Stanford Cardinal and the USC Trojans are, without a shadow of a doubt, two of the best teams in NCAA football betting action this year. The two will meet up at the LA Coliseum on Saturday in one of the marquee games on the Week 9 college football slate.
Four years ago, Stanford paid a visit to Southern California in a game that it theoretically had no chance in. In fact, it was a 41.5 point underdog in the game. The upset that day legitimate spurred the program to greatness, and since that point, it has been nothing but good news for the Cardinal. Now, they are seven touchdowns better than they were at that point, and they know that this win will certainly help out their chances in the chase for the BCS National Championship Game. Last week's 65-21 win over the Washington Huskies was one of the better 'W's of the season for QB Andrew Luck and company. The shocking part though, was that it wasn't Luck that was doing all of the damage. The running game came up with over 400 yards, the best rushing performance that this team has had since, you guessed it, RB Toby Gerhart ripped apart these same Trojans. Don't discount Luck, though. He has thrown for 1,888 yards and 20 TDs against three picks, and there is a reason that he is a leading Heisman Trophy candidate this year.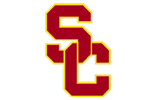 The Men of Troy feel like they would be ranked in the Top 10 in the country in both polls this year if not for their probation that will keep them out of postseason play. Sure, the AP Poll has them ranked No. 20, but that really is an inconsequential number. Instead, this is USC's chance to shine on a national stage against one of the best teams in the country. Head Coach Lane Kiffin should really be promoting this as USC's National Championship Game this year. QB Matt Barkley and WR Robert Woods are both Heisman Trophy contenders in their own right. Barkley has thrown for 2,006 yards and 19 scores against four picks in just seven games, and Woods already has 902 yards and eight TDs, some of the best numbers for a wide out in the nation. The Trojans have suffered some defensively this year, but that is nothing new after watching teams torch this unit last season. If the offense isn't at the top of its game, this unit is as good as dead.
Stanford Cardinal @ USC Trojans Pick: It's really hard to argue with a team that has won 15 games in a row, has covered 10 games in a row, and is 12-0-1 ATS in its last 13 games. Still, we tend to think that the Trojans are being disrespected for a second straight week, and just as they upset the Notre Dame Fighting Irish last week, they could do the same to Stanford this week at the Coliseum.
College Football Pick: USC Trojans +8 at Bookmaker Sportsbook.
The following two tabs change content below.
Adam Markowitz
is a staff writer living in the Orlando area. He has covered NFL, MLB, college football, CFL, AFL, NBA, college basketball, NASCAR, golf, tennis, and the NHL for a number of various outlets in his career, and he has been published by a number of different media outlets, including the Orlando Sentinel and the Wall Street Journal.
Latest posts by Adam Markowitz (see all)