NCAA Football Pick: Notre Dame vs. Stanford Pick
Updated: November 24, 2011
There could be a BCS bowl bid on the line this week down on the farm, where the Notre Dame Fighting Irish take on the Stanford Cardinal in NCAA football betting action.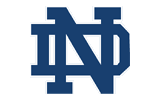 It might seem a tad crazy that the Fighting Irish could be in the BCS in spite of the fact that they only have an 8-3 record for the time being, but take a second to think about it. Notre Dame would then have a win against the No. 5 ranked team in the country, and it would need to move up eight spots to qualify as a potential BCS team. We know that either Penn State or Wisconsin would slip below Notre Dame for sure, and we don't see how it wouldn't hop Nebraska and TCU. Clemson probably has at least one more loss coming, as will the winner of the PSU/Wisky game or Michigan State. Georgia will almost certainly lose a game as well, and so might South Carolina. Now all of a sudden, for a team that has won four in a row, tings don't sound all that farfetched. We're still a bit wary of this offense, which has had three games this year in which it has scored between 15 and 17 points, but it is clear that QB Tommy Rees is the better of the quarterbacks that Head Coach Brian Kelly has at his disposal. He is completing 66.6 percent of his passes for 2,648 yards with 19 scores against 11 picks.
The Cardinal are moving up in the world, but they are going to need to win this game or get some tremendous help in the form of the Oregon State Beavers beating the Oregon Ducks to have a chance to get into the BCS in all likelihood. Stanford looked terrible against the aforementioned Ducks in the national game of the week two weeks ago, and after watching them lose last week at home to the USC Trojans, that loss doesn't look all that great any longer. Then to make matters worse, last week at home in the "Big Game" against the California Golden Bears, the Cardinal were only able to escape with a very unimpressive three point victory. However, we have to remember the flip side of this coin. A loss by Oklahoma State in Bedlam and an upset in the SEC Championship Game, and all of a sudden, this might ultimately be the game that could put the Cardinal in the National Championship Game. QB Andrew Luck is going to need to be at his best in this one, something that just hasn't been the case over the course of the last two games.
Notre Dame Fighting Irish @ Stanford Cardinal Pick: Notre Dame is probably going to be a trendy upset pick this week, as it appears as though it is on a roll, while Stanford is struggling. That being said, we just aren't that impressed with any of these wins that the Irish have logged. Only Wake Forest will go bowling of the four wins in a row, and the truth of the matter is that the only good win this entire season came at home against Michigan State. We just don't see that changing this weekend.
College Football Pick: Stanford Cardinal -6.5 at Bookmaker Sportsbook.
The following two tabs change content below.
Aaron Ryan
Aaron Ryan has been in the sportswriting biz since the late-90s, and he has worked side by side with some of the best and brightest in sports gambling. Always searching for the best trends in sports, Andrew uses his brilliant math mind to his advantage to beat the books.
Latest posts by Aaron Ryan (see all)