NBA Playoffs Picks: Philadelphia 76ers vs. Miami Heat Game 1 Preview
The No. 2 seed in the Eastern Conference, the Miami Heat make their much anticipated debut in the postseason in NBA playoff betting action on Saturday afternoon, as they play host to the Philadelphia 76ers in Game 1 of this Eastern Conference Quarterfinal.
The 76ers are in some trouble in this series, but this is a team that has figured out how to beat the NBA odds a number of times in spots that didn't seem all that likely all season long. There is certainly some playoff experience on this team, as this is a club that pushed the Orlando Magic to six games two seasons ago. However, the problem with this club is that it really doesn't do anything all that well. Averaging 99.0 points per game is nothing to write home about, nor is allowing 97.5 points per game. To make matters worse, these stats were inflated just a bit by the mere fact that there were eight games against the New Jersey Nets and Toronto Raptors, who combined to win just 46 games on the campaign. There aren't any scorers on this team averaging more than the 15.0 points per game that Elton Brand is putting up, though we know that Andre Iguodala is good for 14.1 points, 5.8 boards, and 6.3 assists per game. Jrue Holiday could be in for a big series as well, as he is averaging 14.0 points, 4.0 rebounds, and 6.5 assists per game as well.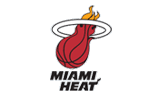 The Heat are essentially the polar opposite team. They play absolutely phenomenal defense as a team, allowing just 94.6 points per game this season, and they are one of the few clubs averaging more than 102 points per game as well. They shoot 48.1 percent from the floor as a team, almost five percentage points higher than the opposition is putting up. On top of that, there are some obvious stars to be spoken of as well. LeBron James hasn't backed off a bit in his new digs in South Beach. He's averaging 26.7 points, 7.5 boards, and 7.0 assists per game, while Dwyane Wade isn't all that far behind in any of these categories at 25.5 points, 6.4 rebounds, and 4.6 assists per game. Chris Bosh is at 18.7 points and 8.3 rebounds per game. The question is whether there is a need for anyone else to step up, and if there is, who that player will be. Mike Bibby? Since coming over from the Atlanta Hawks via free agency right after the trade deadline, Bibby has averaged 7.3 points per game, which makes him fourth on the team in scoring.
Philadelphia 76ers vs. Miami Heat Game 1 Pick: Miami might do everything right, and the Sixers might just be a questionable club all over the court, but the one thing that we can't measure is heart. Philly has a ton of grit and tenacity, and though it won't find a way to win this game, it will find a way to beat the NBA playoff betting lines. Go with the 76ers +10.5.
The following two tabs change content below.
Adam Markowitz
is a staff writer living in the Orlando area. He has covered NFL, MLB, college football, CFL, AFL, NBA, college basketball, NASCAR, golf, tennis, and the NHL for a number of various outlets in his career, and he has been published by a number of different media outlets, including the Orlando Sentinel and the Wall Street Journal.
Latest posts by Adam Markowitz (see all)