NBA Pick: New York Knicks @ Miami Heat Preview
Updated: January 26, 2012


Arch rivals that are heading in totally different directions are going to meet up in NBA betting action on Friday night when the Miami Heat play host to the New York Knicks.
To say that the Knicks have been a brutal disappointment this year is a tremendous understatement. Amare Stoudemire, a man who is seemingly always good for over 20 points every single night, is shooting just 42.6 percent from the floor and is averaging 17.8 points per game. Carmelo Anthony, though is leading the team with 23.6 points per game, is shooting just 39.4 percent from the floor and 30.3 percent from long range, and he is coming off of a two-game stretch in which he has scored just 16 total points. Tyson Chandler, who was brought to the Big Apple to be the enforcer in the middle of the lineup has been weak all year, coming up with just 10.6 points per game, and Toney Douglas, who was supposed to be the team's starting point guard in the aftermath of dismissing Chauncey Billups, is averaging 8.7 points and 2.4 assists per game, and now, he has been benched in favor of rookie Iman Shumpert. Simply put, the Knicks don't have the guards to run the type of offense that Head Coach Mike D'Antoni is looking for. Running up and down the court requires good shooting and great decisions, and there just aren't any players on the court that are making those solid decisions or good shots.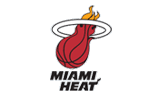 It isn't exactly peaches and cream for the Heat either. Sure, they are 13-5 this year and aren't going to have problems making the playoffs like the Knicks might, but in the end, they still aren't pulling away from their own division, which could make things a little hairy as we move towards the halfway point in the campaign. Dwyane Wade has missed six straight games with an ankle injury, and we are wondering how much longer he is going to be held out of the lineup for. D-Wade is listed as questionable, but he has been questionable basically for the last two weeks. In the interim, LeBron James really has taken over as the team's bona fide star, as he is scoring more than 30 points on a regular basis. Chris Bosh has stepped up, as has Mario Chalmers. As long as one of the non-stars for this team continue to come up with good stats on a regular basis, the Heat are going to be in fine shape, though they are going to need to get Wade back in the fold eventually if they want to win the whole enchilada this year.
Join the BTB Expert Handicappers right now! Click Here for our guaranteed NBA picks
The Final Word: Miami has failed to cover three in a row, but the Knicks are a train wreck and might really just need to be imploded before they can rebuild around some other potential stars in the offseason. Even if Wade doesn't play, look for what should be a heavily favored Heat team to come out and get the job done in a big way for the first time in a week, which should make their hometown crowd feel a heck of a lot better after some shaky performances.
New York Knicks @ Miami Heat Free Pick: Miami Heat
The following two tabs change content below.
Aaron Ryan
Aaron Ryan has been in the sportswriting biz since the late-90s, and he has worked side by side with some of the best and brightest in sports gambling. Always searching for the best trends in sports, Andrew uses his brilliant math mind to his advantage to beat the books.
Latest posts by Aaron Ryan (see all)