MLB Pick: Texas Rangers @ Tampa Bay Rays Game 3
Facing a level series at a game apiece, the Tampa Bay Rays will duke it out in MLB betting action in Game 3 of the ALDS on Monday night at Tropicana Field against the Texas Rangers.
We give the Rangers a lot of credit for fighting back from a 3-0 deficit in Game 2 to finally get some runs on the board after a dozen very, very frustrating innings against Tampa Bay pitching. This offense has really yet to produce the big time long balls that Manager Ron Washington was probably hoping to see, and the end result has been just a very inconsistent offensive effort. Colby Lewis pitched well last year in Game 3 of the ALDS against these Rays, allowing just two hits in 5.2 scoreless innings, but we know that he has his work cut out for him in this one to say the least. Not only is he going to have to pitch on the road this time around, but the argument could be made that he was significantly worse off this year than he was last year. Lewis only went 14-10 this year with a 4.40 ERA, numbers which really shouldn't constitute anyone being a starting pitcher this deep in the playoffs. The only reason why the team went 17-15 in his 32 starts is because the offense averaged 5.7 runs per game for him, numbers which are significantly better than most of the rest of baseball can attest to.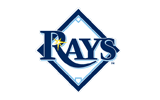 Manager Joe Maddon and company have to be thrilled with the fact that they were able to get a split in Texas, but Game 2 might be the one that really got away in this series on Saturday night. The good news though, is the man that pitched in Game 1 last year of the ALDS is ready to go in Game 3. David Price might have only gone 12-13 on the season, but as last year's 19 win season can attest to, this is a man that has the stuff of a Cy Young Award winner. He had just a 1.14 WHIP this year and a 3.49 ERA, but we remain concerned about how Price finished up the season. The southpaw went 0-1 with a 5.79 ERA in his last three starts of the year, but the team bailed him out with some solid play offensively, including in the game which put this team in the playoffs on the last day of the regular season. The Rays have gone 20-6 in their last 26 games at home, and they are definitely working some magic right now that rivals what the team was able to do in the playoffs in 2008 when they made it all the way to the World Series before falling in five games to the Philadelphia Phillies.
Texas Rangers @ Tampa Bay Rays Pick: We've got the better pitch, we might have the better team, and we definitely have home field advantage. That being said, we have no real choice but to take Tampa Bay at such short odds to push the Rangers to the brink of elimination.
MLB Pick: Tampa Bay Rays -130 at Bookmaker Sportsbook.
The following two tabs change content below.
Adam Markowitz
is a staff writer living in the Orlando area. He has covered NFL, MLB, college football, CFL, AFL, NBA, college basketball, NASCAR, golf, tennis, and the NHL for a number of various outlets in his career, and he has been published by a number of different media outlets, including the Orlando Sentinel and the Wall Street Journal.
Latest posts by Adam Markowitz (see all)