The chase in the NL Central couldn't possibly be any tighter, as there are four teams separated by four games in the standings. The Cincinnati Reds can knock that number down to three if they can find a way to stop the team with the best home record in baseball in MLB betting action on Saturday night, as they visit the Milwaukee Brewers.
The Reds are definitely fighting an uphill battle right now. Yes, they've got a winning record in division at 25-18, and in fact, that's the second best mark of the four big boys in the NL Central (and yes, it's still odd to call the Pittsburgh Pirates "big boys!"). However, that four game hole, especially having already lost the first two games of this four game series, seems like a ton to make up. The good news for the next two days though, is that Cincinnati has won 22 of its last 29 against the Brew Crew in spite of the fact that these first two clashes have been lost. Johnny Cueto is hoping for some more help than he has really received over the course of his last five starts. In four of those games, the Reds only scored three or fewer runs, and they spoiled his complete game against the St. Louis Cardinals earlier this week by giving him the loss in a 1-0 dud. Still, you have to go back to last season to find the last time that Cueto allowed more than three runs in a start, which is why he has a tremendous 1.77 ERA. However, it's a tad puzzling why he only has a 5-3 record, especially considering the fact that the Cincy offense is generally not full of slouches.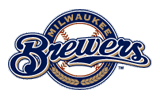 Simply put: The Brewers just don't get beaten at home, and they excel in MLB betting festivities on Saturdays. Milwaukee is now an MLB best 32-13 at Miller Park this year, and to make matters even more convincing in this one, it has won nine straight Saturday clashes. Though things are starting to spiral back towards Earth for Shaun Marcum, there is no denying the fact that the righty is doing a great job this year. He is 7-3 with a 3.32 ERA. He's got over three times the strikeouts (97) as he does walks (30), and he really hasn't had too many of those starts that just make you cringe. Perhaps it should have been expected this year. After all, over the course of the last two seasons with the Toronto Blue Jays, the 29 year old had 3.39 and 3.64 ERAs, and he looked awfully good in doing so. Now, he's a part of a Milwaukee rotation that has absolutely dominated, especially here at home, and we have nothing but the best expectations of Marcum going forward in this one.
Cincinnati Reds @ Milwaukee Brewers Pick: The only fear that we have is that Marcum has actually led the Brew Crew to four losses in his last five starts at home, which is remarkable considering just how good this team has been as the hosts. Still, we think that Cueto is doing this with smoke and mirrors, and he is bound to have a correction at some point in his gaudy stats. Take the Brewers -110 at this very generous price on the MLB odds on Saturday night.