A pair of young guns will be on the mound on Saturday afternoon at Safeco Field for Fox Saturday Baseball action between the Tampa Bay Rays and the Seattle Mariners.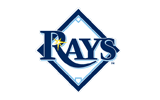 The Rays have started to catch some fire offensively, scoring runs in bunches that have led to some big wins here on the West Coast. However, with BJ Upton trade rumors swirling and the fact that he is in a 3-for-38 slump, we would expect to see Manager Joe Maddon not use him. One man that is going to be in the lineup on Saturday though, is rookie starting pitcher Alex Cobb, a man who has inherited a full time spot in the rotation and could see more time soon if Tampa Bay moves James Shields. Cobb has led Tampa Bay to a 4-3 record in his seven starts this year, but he really hasn't had a miserable outing since allowing four runs in 4.1 innings in his first MLB start against the Los Angeles Angels of Anaheim. In fact, since that point, Cobb has only allowed eight runs in total, and he has pitched at least 5.2 innings in all of his outings. He threw seven shutout innings against the Kansas City Royals earlier this week.
The M's have still only won one game since July 5th, and they haven't won a home game since July 3rd. The offense is just as bad as it gets right now, and Manager Eric Wedge is running out of possibilities for lineup combinations... and he might be running out of time to keep his job if this keeps up. Though the rest of the team is struggling and could be sent out of town in a hurry, the man of the hour on Saturday is sure to be sticking around for awhile and is going to be a catalyst which this club builds around. Michael Pineda has been roughed up a bit of late, and just like seemingly the rest of his mates, he is getting minimal help from his offense. The 22 year old righty is 8-7 with a 3.64 ERA in total in 2011, but he had a 2.58 ERA just four outings ago. Pineda still has nasty stuff though, and he could always be good for a tremendous outing. He has 123 strikeouts in 123.2 innings of work, he has only walked 39 batters for the year, and batters are only hitting .211 against him. Needless to say, all of that has been parlayed into a 1.09 WHIP, one of the best marks that this team has to offer.
Tampa Bay Rays @ Seattle Mariners Pick: Is there any reason to be betting on Seattle right now? We know that the Rays have to be winning this game at least half the time, and there's no reason for them to be dogs on the MLB odds. Stick with Tampa Bay +105.