Expert NBA Picks: Memphis Grizzlies vs. Oklahoma City Thunder Game 5 Pick
After playing for 63 minutes on Monday night, the Oklahoma City Thunder and the Memphis Grizzlies are back at it in NBA playoffs betting action on Wednesday night for Game 5 of the Western Conference Semifinals.
The Grizzlies are probably going to look back at that loss in Game 4 and kick themselves, as that was their chance to be able to take control of this series. However, give them a ton of credit. Every time that they were faced with adversity, they were able to push through it with huge baskets at the end of games. Greivis Vazquez knocked down a huge three pointer with time running out in the first overtime frame, and Mike Conley was able to answer the bell at the end of regulation as well. Both Marc Gasol and Zach Randolph have games of 20+ points and 20+ rebounds in this series, marking the first time since the 1970s that two different players on the same team went for 20 and 20 in the same series. Both Z-Bo and Gasol have been absolutely on fire against the Thunder. Randolph has averaged 26.0 points and 14.0 rebounds per game thus far in the series, while Gasol has been good for 18.8 points and 12.9 boards per night after averaging just 11.7 points and 7.0 rebounds per game on the season.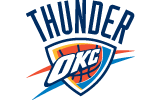 Even if the Thunder do end up winning this series, it is clear that they are still a tad bit away from being able to win the whole enchilada in all likelihood. The fact that both Russell Westbrook and Kevin Durant had to score 35+ points in the same game to win against what theoretically should have been the worst team in the conference this year was frightening. These two played a combined 108 minutes just two days ago, and they could be in for a heck of a battle once again in Game 5. Westbrook and Durant became the first duo to score 35+ points in a playoff game since the 1993 Indiana Pacers did it with Reggie Miller and Jalen Rose. The best comparison that we can use for the Thunder is this year's Miami Heat team, just with two stars instead of three. There is a certainly level of toughness both mentally and physically that Kendrick Perkins brings to the table, but when push comes to shove, you know that the ball is going to be in the hands of one of the two stars at the end of the game.
Memphis Grizzlies vs. Oklahoma City Thunder Pick: We have to get two things straight with this pick. The first is that we are now convinced that neither one of these teams has a shot of winning it all. The second is that the Grizzlies really have to be shell shocked right now. We might not be in love with Oklahoma City, but we do think that, back on its home court, it is going to be able to shine brightly to take the series lead for the first time. Go with the Thunder -6.
The following two tabs change content below.
Adam Markowitz
is a staff writer living in the Orlando area. He has covered NFL, MLB, college football, CFL, AFL, NBA, college basketball, NASCAR, golf, tennis, and the NHL for a number of various outlets in his career, and he has been published by a number of different media outlets, including the Orlando Sentinel and the Wall Street Journal.
Latest posts by Adam Markowitz (see all)