College Basketball Betting: Ohio State vs. Kansas Pick
Updated: December 9, 2011
Allen Fieldhouse will be rocking and rolling on Saturday for NCAA basketball betting action, as the Kansas Jayhawks look to make a huge statement against the No. 2 team in the land, the Ohio State Buckeyes.
Ohio State would like to think that it is the top team in the country this year, and going on the road and winning a game like this one would go a long way in establishing that. We give Head Coach Thad Matta and the gang a lot of company, as they have scheduled some rough games this year that have gotten this team a heck of a lot more ready for another run in March Madness this year. Jared Sullinger sat out the team's win against Texas Pan American this week with a back problem, and he expects to be back in the fold this weekend. However, what may have been proven is that without the big man in the lineup, the Buckeyes are in a lot of trouble offensively. The team only shot 39.7 percent from the field against the Broncs, easily their worst percentage of the season and a far cry from what is expected out of a team that is shooting over 50 percent from the field as a team for the season. Sullinger always has double-double potential, as he is averaging 19.1 points and 10.3 boards per game, but we don't want to forget about William Buford either, who is averaging 16.0 points per game, second on the team.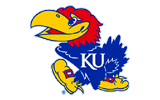 The Jayhawks were expected to be down just a bit this year, as the plethora of talent that Head Coach Bill Self has had in recent years has been dwindled just a bit. Instead of having 10 players that can all score in double digits on any given night, there are probably only six players that can say that. Thomas Robinson and Tyshawn Taylor are clearly the two scoring leaders of this team at 17.4 and 16.8 points per game respectively. Robinson will have his work cut out for him going against Sullinger, but when push comes to shove, both could end up with double-doubles in this game, as they are clearly the two monsters on the glass. Taylor isn't afraid to shoot the ball from anywhere on the court, as he is shooting 57.1 percent from beyond the arc this year and 46 percent from the floor in total. Elijah Johnson has averaged right around four assists per game, but he and his teammates are turning the ball over far too much considering the fact that this schedule hasn't been all that brutal over the course of the first month and change of the season.
Ohio State Buckeyes @ Kansas Jayhawks Keys: We'll start right there. The Jayhawks are averaging 14.9 turnovers per game this year, and they just can't do that against a team like Ohio State and live to tell about it. Containing Sullinger is going to be key, but KU can't forget about guarding the perimeter either with Buford and Aaron Craft. The Buckeyes would love to get the tempo down in this game and avoid the Jayhawks running and getting their crowd into the game, and if that stays the case and the outside shooters can do some damage for OSU, it should walk out of Allen Fieldhouse with a 'W'.
The following two tabs change content below.
Adam Markowitz
is a staff writer living in the Orlando area. He has covered NFL, MLB, college football, CFL, AFL, NBA, college basketball, NASCAR, golf, tennis, and the NHL for a number of various outlets in his career, and he has been published by a number of different media outlets, including the Orlando Sentinel and the Wall Street Journal.
Latest posts by Adam Markowitz (see all)