Chicago Blackhawks @ Phoenix Coyotes Game 1 Free NHL Pick
Down in the desert, NHL betting action will continue on Thursday night in the final clash of a four-pack of duels, as the Chicago Blackhawks visit the Phoenix Coyotes.
Looking for the best sports handicappers on the internet? Look no further than the Expert Sports Handicappers here at Bang the Book. Click Here to check out the best gambling picks that you'll find anywhere!
The Blackhawks clearly have a team that is tremendously talented. They went through some rough stretches over the course of the season, and they were stuck in a division that featured arguably four of the best five teams in the entire Western Conference. That being said, they are likely to get Jonathan Toews back in action at some point over the course of this series, if not right here in Game 1. Toews, the man that won the Stanley Cup for the Hawks two years ago, hasn't played since February 19th. Still, he is fourth on the team in total scoring with 57 points, and he is tied for second in goals with 29. Marian Hossa, Patrick Sharp, and Patrick Kane finish off a very impressive offensive team that has a lot of potential. The big question comes in net. Both Corey Crawford and Ray Emery had seasons that few goalies would be proud of. Crawford did win 30 games this season, but he also had a 2.72 GAA, which was only just a tick better than that of Emery, who went 15-13 with a 2.81 GAA.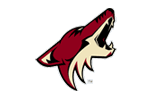 The Coyotes have done well over the course of the last few seasons in spite of the fact that they play in a division that has featured teams with better ownership, more resources, and usually, a lot more talent. They made it to this point in the season on the back of Mike Smith, who literally at times, was the only reason that Phoenix was winning games. Smith has allowed just two goals in his last five games, all of which have been Phoenix victories. He stopped almost 150 shots in a row before finally conceding against the St. Louis Blues, on the road no less (where the Blues won 30 games this season). Smith might have made himself a fringe Vezina Trophy contender as well. Think that Phoenix isn't laughing at the Philadelphia Flyers? They traded for Ilya Bryzgalov right after last season was said and done with, and now, Bryzgalov is looked at as a huge question mark in the City of Brotherly Love, while Smith is turning up aces like he hasn't at any other point in his career just in time for a surge in the postseason
Chicago Blackhawks @ Phoenix Coyotes Pick: We just aren't all that sure that Phoenix is the better team in this series. Sure, the Blackhawks were beaten in three in a row in this series to end the season, but those games were quite some time ago. We don't like either Crawford or Emery in this spot, but we think that Smith is just overrated and playing over his head, just like Dwayne Roloson did last year for the Tampa Bay Lightning.
Free Hockey Pick: Chicago Blackhawks +110
The following two tabs change content below.
Aaron Ryan
Aaron Ryan has been in the sportswriting biz since the late-90s, and he has worked side by side with some of the best and brightest in sports gambling. Always searching for the best trends in sports, Andrew uses his brilliant math mind to his advantage to beat the books.
Latest posts by Aaron Ryan (see all)