Joe Paterno Dies; 'He Fought Hard Until the End,' Says Family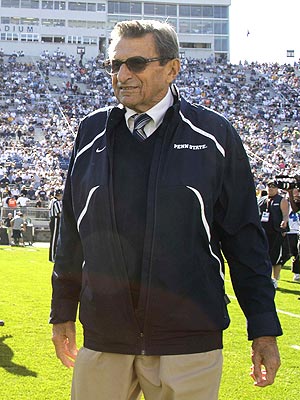 Joe Paterno, the legendary Penn State football coach who won more Division I NCAA football games than any other coach, died on Sunday morning, his family announced. He was 85.

"It is with great sadness that we announce that Joe Paterno passed away earlier today. His loss leaves a void in our lives that will never be filled," the Paternos said in a statement.

"He died as he lived. He fought hard until the end, stayed positive, thought only of others and constantly reminded everyone of how blessed his life had been. His ambitions were far reaching, but he never believed he had to leave this Happy Valley to achieve them. He was a man devoted to his family, his university, his players and his community," said the statement.

Paterno is survived by wife Sue Paterno, children Diana, Joseph Jr. "Jay", Mary Kay, David and Scott, and 17 grandchildren – and, his family said, "hundreds of young men whose lives he changed in more ways than can begin to be counted."

Paterno, a.k.a Joe Pa and known for his "success with honor" motto, thick glasses, rolled-up pants and black cleats, had been diagnosed with lung cancer, it was announced on Nov. 18. On Saturday, as friends and family were being summoned to State College Hospital, a family spokesman said the coach, 85, had taken a turn for the worse and asked for privacy for his family.

A Brooklyn native and Brown University graduate, Paterno began coaching the Nittany Lions in 1966 and his tenure stretched to October, 2011, when he won his 409th game.

In his 46 years as head coach, Paterno held the all-time Division I record for football coaching wins with a 409-136-3 record, and he won two national championships while going undefeated in five different seasons.

After a highly celebrated career and iconic status on the Penn State campus, Paterno's career as head coach ended as a result of a scandal involving former assistant Jerry Sandusky, who allegedly sexually assaulted young boys, including a 10-year-old in the locker-room shower.

Although Paterno was not accused of any wrongdoing in the scandal, he was criticized for failing to report what he heard to police. In announcing his retirement, he said, "This is a tragedy. It is one of the great sorrows of my life. With the benefit of hindsight, I wish I had done more."

"I'm sick about it," he told The Washington Post on Jan. 14. "I didn't know exactly how to handle it, and I was afraid to do something that might jeopardize what the university procedure was. So I backed away and turned it over to some other people, people I thought would have a little more expertise than I did. It didn't work out that way."

Success with Honor

Though the scandal landed Paterno in the headlines in his final days, the coach enjoyed decades of success and reverence on the campus he and his wife helped build. It was their donations that funded the school's Paterno Library).

"Success without honor is an unseasoned dish; it will satisfy your hunger, but it won't taste good," Paterno said.

Even in the aftermath of the scandal, the downtown College Avenue was peppered with Joe Paterno merchandise, and even bar bathrooms were scrawled with support for the longtime coach.

"It feels like a member of the family has died," Leslie Vink, a 2003 graduate and former Penn State gymnast tells PEOPLE. She was on campus Saturday to watch the women's gymnastics team compete when she heard the news of Paterno's passing.

"He meant so much to the school and it's students," said Vink. "He is survived by not only by the Paternos, but his entire Penn State family."