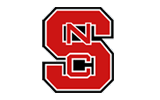 North Carolina State Wolfpack
5-7, 5-6-1 ATS, 5th Place in ACC Atlantic


Odds to Win 2010 BCS Championship: +10000
Odds to Win ACC 75/1
at Bookmaker Sportsbook
The Wolfpack were a middle of the road team a year ago. A high powered passing attack was offset by the lack of a ground game and a porous defense. Now, the Pack will enter their second straight year as a fairly young team looking to grab a few more ACC wins than their two last year.
Offensive Outlook
: Last yearís story on offense can be told with two numbers: 272.9 passing yards and 120.9 rushing yards per game. The first number ranked the Wolfpack 24th in the nation, while the ground game was ranked 92nd. QB Russell Wilson was the cream of the ACC crop, completing 224 of 378 passes for 3,027 yards, 31 touchdowns, and 11 picks, while running for four more scores. All the top receivers are back at Wilsonís disposal. Owen Spencer and Jarvis Williams topped the charts. Spencer averaged a whopping 25.5 yards per reception and scored six times, while Williams scored on 11 of his 45 receptions. Where the team will again suffer enormously is the ground game. Leading RB Toney Baker has graduated, having gained 773 yards on 160 attempts, scoring six times. Who will replace him is still up in the air.
Defensive Outlook
: Wolfpack opponents racked up 31.2 points per game in 2009, along with 222.2 passing yards and 139.1 rushing yards. Opposing quarterbacks were sacked just 24 times and teams converted on third down an eyebrow raising 42.5% of the time. The Pack will likely look to its new freshmen to assist this year, as the unitís depth at cornerback and safety is lacking. The team signed top safeties David Amerson and Dontae Johnson, but it wonít be enough to put this defense over the top.
The Final Word
: The Wolfpack will once again be amongst the best passing offenses in the nation, but like last year, the ground game and defense are highly suspect. However, if Wilson and his receivers put up enough points, opponents wonít be able to keep up. Expect the Pack to finish above .500 in the ACC and get back to a bowl game.
2010 North Carolina State Wolfpack Prediction: 8-4, 2nd place in ACC Atlantic


2010 North Carolina State Wolfpack Schedule
9/4 Western Carolina
9/11 @ Central Florida
9/16 @ Cincinnati
9/25 @ Georgia Tech
10/2 Virginia Tech
10/9 Boston College
10/16 @ East Carolina
10/28 Florida State
11/6 @ Clemson
11/13 Wake Forest
11/20 @ North Carolina
11/27 @ Maryland